Beginner's Guide to Eventing
In Great Britain, the eventing season runs from March to October, with events at different levels taking place throughout this time. Although the most important…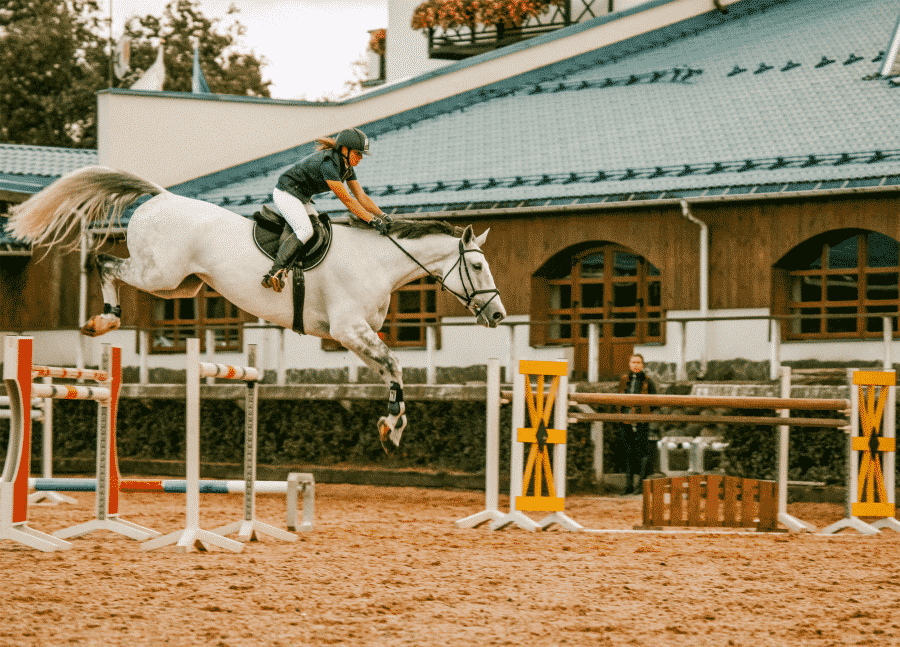 In Great Britain, the eventing season runs from March to October, with events at different levels taking place throughout this time. Although the most important competitions are affiliated by British Eventing, other events (referred to as "unaffiliated") also take place during this period. Affiliated eventing in Britain is split into 6 core levels: BE80(T), BE90, BE100, Novice, Intermediate, Advanced, and FEI levels.
Eventing is made up of three disciplines: dressage, showjumping, and cross country. Horse trials are scored on penalties, meaning the lowest overall score wins.
What is Dressage?
Dressage is sometimes compared to ballet for horses and always takes place first in a Horse Trial. It is used to assess both the horse and rider, who are expected to perform a number of predetermined movements inside of a marked off flat arena (either grass or a sandy "surface"). Each movement has a maximum score of 10 and is judged on obedience, attention, pace regularity and freedom, willingness, and accuracy.
What is Show Jumping?
Showjumping is used to assess the jumping ability of a horse and rider, and both must be fit to perform well. It is vital that the rider is familiar with their horses pace so that they can initiate their jump at the right point.
Unlike cross country, showjumping poles are readily knocked down, however, 4 scoring penalties are given for each pole that falls. An optimum completion time window is also outlined, with penalties given if you fall outside of this window (either too fast or too slow). Refusals are also important: 4 penalties for the first refusal, 8 for the second, and elimination at the third refusal.
What is Cross Country?
Cross country requires horse and rider to jump various "natural" jumps – these vary from logs to beer kegs, but typically involves obstacles such as water, steps and ditches. Cross country is often seen as the most enjoyable part of an event.
Much like show jumping, cross country should be completed within an optimum time window. Failure to fall inside of this results in penalties (0.4 penalties for every second over). 20 penalties are awarded for each jumping refusal, also.
British Eventing (BE) Levels
Events typically last one day only, with all three portions (dressage, showjumping, and cross country) spread throughout the day. However, in some instances – particularly international competitions – they can take place over three days, with one component taking place each day.
BE80(T)
BE80(T) is suitable for anyone who wishes to have a go at affiliated eventing and has an appropriately fit horse.
The 'T' part of BE80(T) stands for training and signifies that a British Eventing accredited coach will be present to assist competitors looking for guidance.
This is the easiest of all levels, and fences are a maximum height of 80cm (apart from two showjumping jumps which are allowed to be up to 85cm). To avoid time penalties the cross-country course should be covered at a speed of 435 metres per minute. Dressage at BE80(T) is similar to a basic British Dressage (BD) prelim.
BE90
BE90 is suitable for anyone who wants to try affiliated eventing but is looking for a slightly more challenging event than BE80(T). BE90 is the highest level that a new BE competitor can enter at.
Except for two showjumping fences that can be up to 95cm, all fences at BE90 are at a maximum height of 90cm. To avoid penalties the cross-country component should be covered at 450 metres per minute. Dressage is similar to British Dressage (BD) prelim.
BE100
BE100 is perfect for BE90 competitors who are looking to increase technicality. BE100 is the highest British Eventing grassroots level.
Two showjumping fences can be a maximum of 1.05m, however, all other jumps must be less than 1.0m high. The cross-country course should be covered at 475 metres per minutes. Dressage tests remain similar to British Dressage (BD) prelim, however, include more transitions than at BE90 and BE80(T).
Novice (N)
Things really start to turn up a notch at novice – it's a big step up from BE100. As you've come to expect all jumps are a maximum of 1.10m, except for two show jumps which can measure up to 1.15m.
What really differentiates Novice from grassroots levels is technicality. This includes trickier lines to follow, "skinnier" fences, and a more demanding pace: 520mpm. Dressage is similar to BD Novice, however, you should expect lengthened strides, rein-back, and simple lateral work.
Intermediate (I)
Intermediate isn't for the faint-hearted. Showjumping fences can reach 1.25m, whereas cross country fences are limited to 1.15m. However, difficulty again arises from technicality rather than height, and the required rate of travel is increased to 550 metres per minute.
Dressage tests at Intermediate include a lot more technical lateral work. Furthermore, showjumping jumps are tighter.
Advanced (A)
Advanced level is the toughest BE level, and is suited to capable and fit riders paired with similarly great horses. Show jumps can extend up to 1.30m, whereas cross country fences can reach 1.20m only. The dressage component is almost as challenging as the cross-country and showjumping aspects, and includes half-passes, flying changes, and collection.
International levels
| | | |
| --- | --- | --- |
| Class code (from 2019) | Previously known as | Maximum height (m) |
| CCI1*-Intro | New introductory level | 1.05 |
| CCI2*-S | CIC1* | 1.10 |
| CCI2*-L | CCI1* | 1.10 |
| CCI3*-S | CIC2* | 1.15 |
| CCI3*-L | CCI2* | 1.15 |
| CCI4*-S | CIC3* | 1.20 |
| CCI4*-L | CCI3* | 1.20 |
| CCI5*-L | CCI4* | 1.30 |
| Olympic Games and WEG – Special Category | Olympic Games and WEG | 1.30 |
Table taken from British Eventing (BE)
For more information on the levels check out British Eventing's official guidelines here.
---
You don't even have to have full BE membership to compete in grassroots BE events. A day pass (£10) and a horse pass (£15) allow you to compete up to four times in a season.
If you're apprehensive then reach out to British Eventing about volunteering at an event – they're always grateful for volunteers, and it will help you understand the comings and goings better.