The Best Neoprene Wellies for Winter
Neoprene wellington boots are a great choice for winter. In addition to great heat retention, full neoprene boots offer unparalleled flexibility. Here are our 5 favourite boots.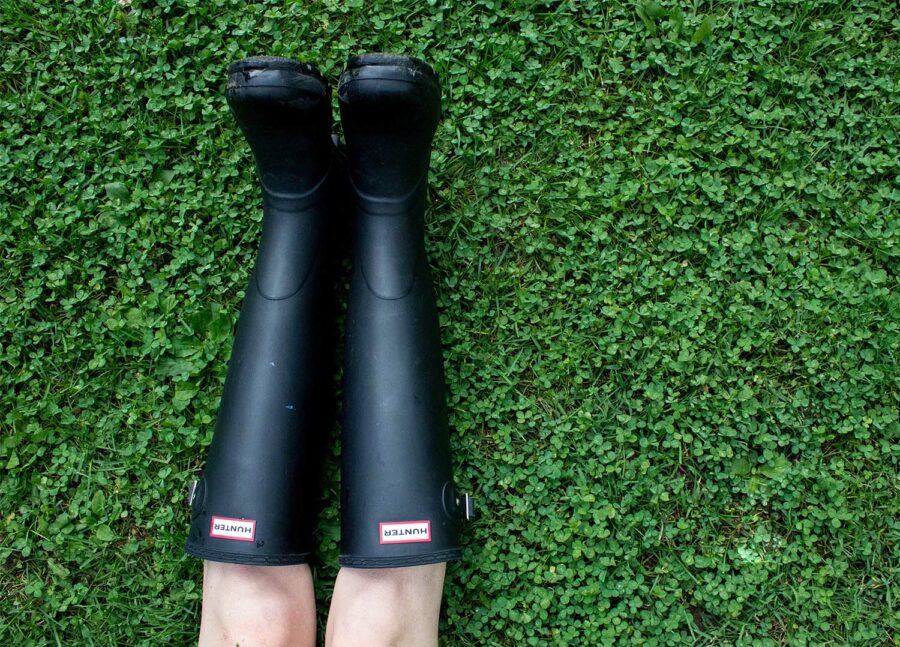 Unlike traditional rubber wellies, which can be stiff and inflexible, neoprene boots are much more comfortable and offer a snug fit that is perfect for winter. Additionally, neoprene has excellent insulating properties, which means that it can keep your feet warm and toasty in even the coldest of conditions.
When choosing the best neoprene wellington boots for winter, it's important to consider the type of activities you'll be doing and the conditions you'll be facing. For example, if you'll be walking through deep snow or wading through water, you'll want to choose a boot with a full neoprene upper and a thick, durable sole. If you'll be spending most of your time on dry land, a neoprene-lined boot may be sufficient.
Here's our pick of the five best neoprene wellington boots for winter.
Jump to
The best neoprene wellies
When it comes to picking neoprene wellies, it's important you have a rough idea what you'll be wearing them for. For example, someone working outside in the Outer Hebrides through winter has different requirements to someone tending to their horse. We've broken down the pros and cons for each of the boots in our review.
LE CHAMEAU VIERZONORD NEOPRENE LINED BOOTS
The best all-round wellies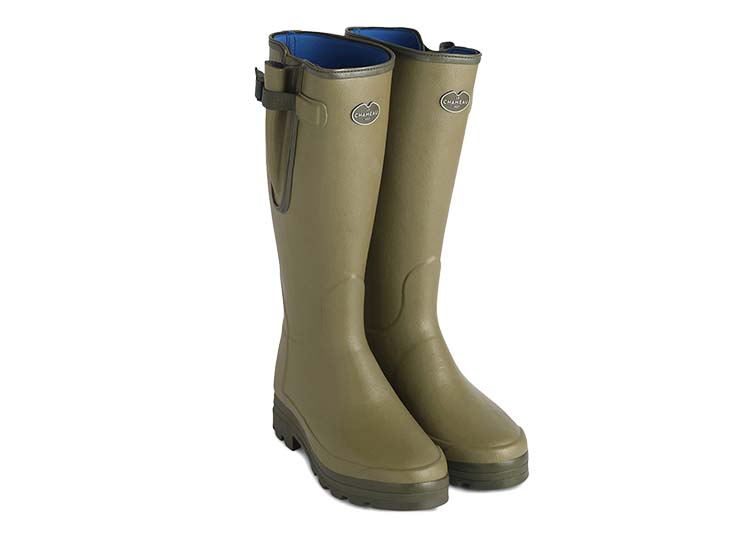 ---
Pros and Cons
Perfect for everyday wear
Shock absorbing sole results in greater comfort
Thinner neoprene means the boots are not well suited to colder climates
Expensive
---
The le Chameau Vierzonord boot comes in both women's and men's fit, as well as a variety of colours (olive, traditional, and burgundy). The boot is designed for 'everyday country life', and comes with a waterproof gusset and a neoprene lining. The rubber is also natural, making it a great environmentally-friendly choice.
The neoprene is 3 mm thick, meaning the Vierzonord is a great boot for general wear. It's important to emphasise that the boot is only neoprene-lined, and does not have a full or partial neoprene upper. This has resulted in a slightly less flexible boot.
Unlike other le Chameau boots, the Vierzonord does not have a Vibram sole. Instead, it bears le Chemeau's own 'dual-density Cross sole', which was created with shock absorbance, longevity, and comfort in mind.
The boot is a great choice for casual wearers who want an all-year-round boot.
---
Gender
Men's and women's styles available
---
ARCTIC SPORT NEOPRENE MUCK BOOTS
The best wellies for cold weather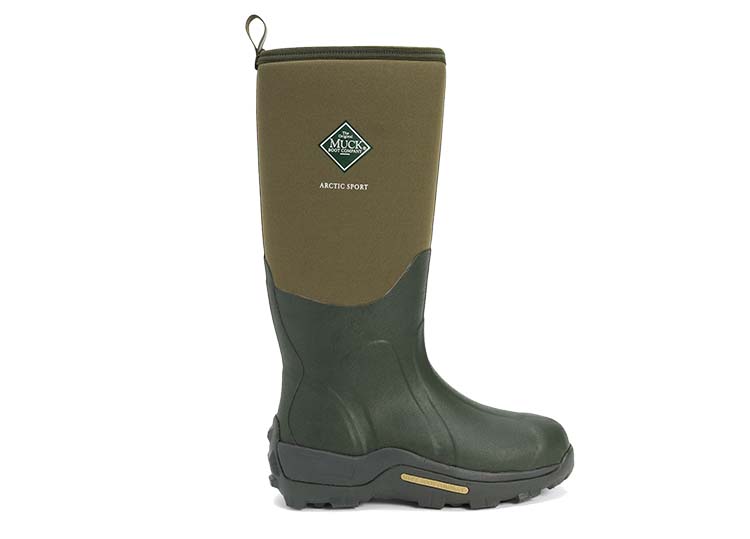 ---
Pros and Cons
Said to be usable down to -30 celsius
Tread is perfect for slippery surfaces
Thicker neoprene means the boots are not suited to spring and summer
No colour options



---
The Arctic Sport boot from Muckboots is iconic and universally acknowledged as one of the best neoprene boots on the market. They are known to be constructed to a high standard, and have a solid feel which doesn't feel heavy underfoot – it is not a stretch to describe their comfort as slipper-like. Their insulating properties are also lauded, with several third-party reviews focusing on their real-world usability down to -30 celsius.
The Arctic boot is suitable for a wide range of tasks – from construction work to caring for horses. The solid tread is capable of gripping on normally slippery surfaces, such as wet concrete paths, and the neoprene upper means that sweating and general discomfort is kept to a minimum.
The boot is split approximately 50/50 between rubber and neoprene, with the lower portion being constructed of synthetic rubber and the upper half of 5mm 'CR Flex-Foam' neoprene.
AIGLE PARCOURS 2 ISO
The best neoprene wellies for walking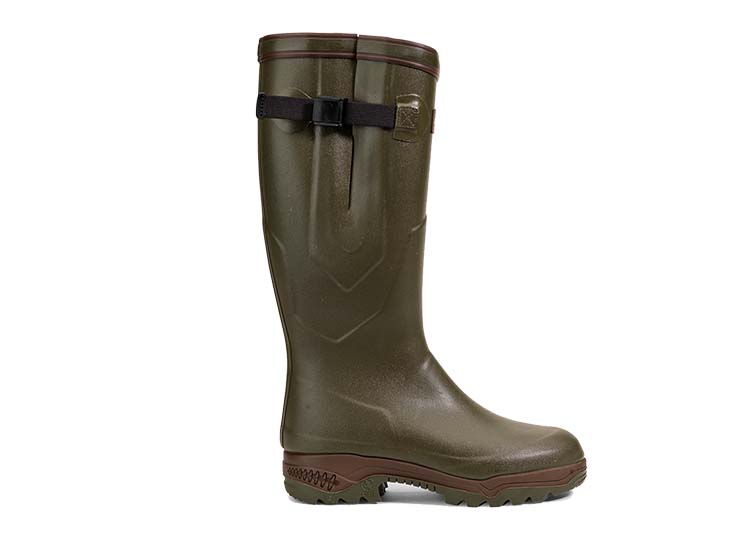 ---
Pros and Cons
Stylish, traditional design
Comfortable, even when worn for long periods
Anti-fatigue properties increase the boots' lifespan
Thin neoprene makes them unsuitable for colder climates



---
Aigle Parcours look like a stereotypical wellington boot – unsurprising given how long Aigle have been making boots. The Parcours 2 ISO is particularly popular amongst walkers, as it maintains comfort even on long walks – without the need to double up on socks. They are also renowned for their longevity, which is at least in part attributed to the use of high-quality materials, and the boots being handmade in France.
The Aigle Parcours 2 has 'anti-fatigue properties', which make them a great pick for horse owners. The boots have a full rubber outer with a neoprene lining. They are available in bronze, brown, green, and black.
WETLAND'S NEOPRENE RAIN BOOT – MUCK BOOTS
Best value for money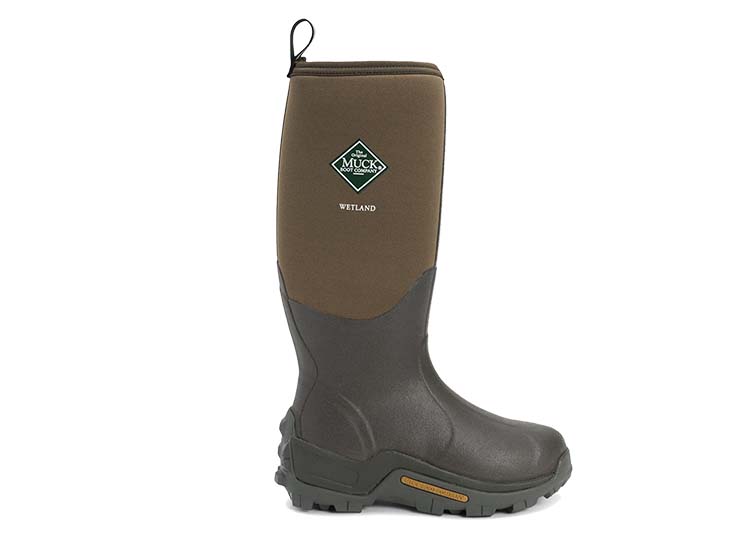 ---
Pros and Cons
Represent great value for money
Mesh lining allows feet to breathe
Uncomfortable when worn for longer periods of time
Limited colour options



---
The Wetland's rain boot by Muck Boots is a unisex model, not too dissimilar to the Arctic Sport by Muck Boots (also reviewed here). The Wetland's boot is one of the more affordable neoprene Muck Boots, but with many of the benefits of more expensive boots in their range. Whilst other reviewers have reported that the boots are unsuitable for wearing all day, this typically doesn't affect gardeners, dog walkers, or even individuals looking after their horses. For many, the Wetland's rain boot is more than adequate.
The boots come with a rubber sole and lower half, and a neoprene upper. The neoprene is 5 mm thick – great for colder weather – and has a mesh lining that allows your feet to breathe. They are available in brown and have a flat heel.
HUNTER BALMORAL NEOPRENE WELLIES
Modern, fashionable wellies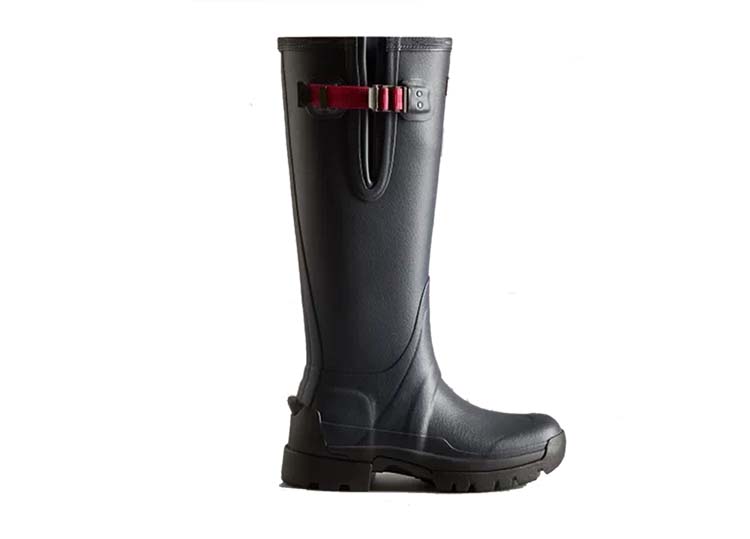 ---
Pros and Cons
Vibram sole, which reduces shock and increases traction
Range of colours to choose from
Expensive
Thinner neoprene makes them unsuitable for colder environments



---
The Hunter Balmoral welly features a full rubber exterior and neoprene lining. The lining is 3 mm thick – making it a great boot for all year round wear. It also features interchangeable insoles, and an adjustable upper which can be tightened or loosened using a buckle.
The boot has a Vibram sole, which targets shock absorbance, traction, and general comfort. It is worth noting that this sole was specifically designed for Hunter by a third party, meaning that this is a quality that Hunter believe to be particularly important. As a result, these boots are great for slippery surfaces – whether that be an icy, wet, or muddy surface.
---
Frequently asked questions (FAQ)
How warm are neoprene wellies?
Neoprene is often used in wetsuits and provides excellent insulation. Neoprene wellies trap heat by creating an air pocket that acts as a barrier, preventing the heat from escaping. The thickness of the neoprene plays a role in how much heat the boots can retain. For example, a 3 mm thickness is suitable for milder seasons like spring and autumn, while thicker material is recommended for the colder winter months.
Are neoprene wellies comfortable?
In terms of overall comfort, neoprene wellies have several advantages over traditional rubber boots. Firstly, the neoprene upper allows for more flexibility and freedom of movement, which can be especially beneficial for activities such as hiking or walking through uneven terrain. This can help to prevent rubbing and blisters, which can be a common problem with more rigid rubber boots.
Additionally, neoprene is a highly insulating material, which means that it can help to keep your feet warm even in cold weather. This is particularly useful for people who suffer from cold feet, or for those who need to wear wellies in cold conditions for extended periods of time.
Neoprene-lined rubber boots are also an option for those looking for greater warmth retention, as the neoprene lining provides an extra layer of insulation. However, these boots may not be as flexible as those with a neoprene upper, so they may not be as comfortable for activities that require a lot of movement.
Overall, neoprene wellies can be a comfortable option for those looking for a warm and flexible boot. While they may not be the most suitable choice for everyone, they can provide many benefits over traditional rubber boots in terms of comfort and warmth.
Should I buy steel toe cap wellington boots?
Steel toe cap wellington boots are great for dangerous environments, such as building sites, where your feet require protection. There are also benefits to wearing steel toe boots around animals, such as horses, to protect against them standing on your feet! However, steel caps add extra weight and can make boots uncomfortable in cold weather. Unless required, it is best to avoid steel toe wellington boots.
Are neoprene wellies better than rubber boots?
Many users of neoprene wellies believe that they are better than rubber boots. Not only are they better at retaining heat, but depending on design, they also offer more flexibility. Neoprene is also less likely to crack than rubber, making them a great choice for individuals working in semi-hazardous environments – such as horse yards, where urine can accelerate the breakdown of rubber boots.
---
Are you and your horse ready for winter? Check out our article on Hacking out Safely in Winter to stay safe as the nights get shorter.