The Best Waterproof Riding Trousers
Whether you're looking for the best waterproof riding trousers for autumn, winter, or spring, we've got you covered.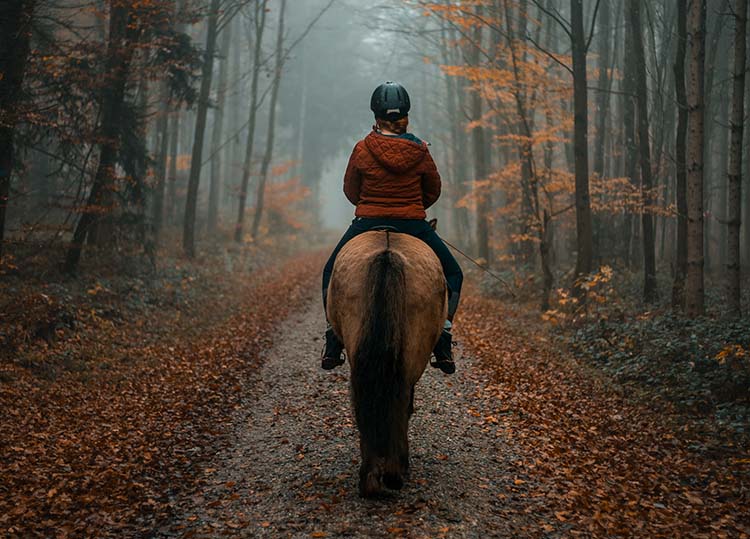 Whether you're looking for the best waterproof riding trousers for autumn, winter, or spring, we've got you covered. Equestrian riding trousers come in a range of styles, and are available for men, women, and children.
Like waterproof breeches, waterproof riding trousers keep you dry and warm in the saddle. They're also hardwearing and comfortable, meaning that you can use them for more than riding. We carry out all of our yard duties – from mucking out, to filling water buckets – in waterproof trousers for much of the year!

Here's our pick of the best waterproof riding trousers.
Jump to
The Best Waterproof Riding Trousers
Yard chores aren't put on pause for wet weather; that's why equestrian waterproof trousers are a must-have item in your wardrobe. Depending on your needs, you might be looking for different qualities in waterproof riding trousers. Some may value comfort while others might err on the side of durability and safety. Either way, you will find the right pair for you in this list of the best waterproof riding trousers.
Horseware Rambo Waterproof Pull Ups (Kids)
Best all-round kids trousers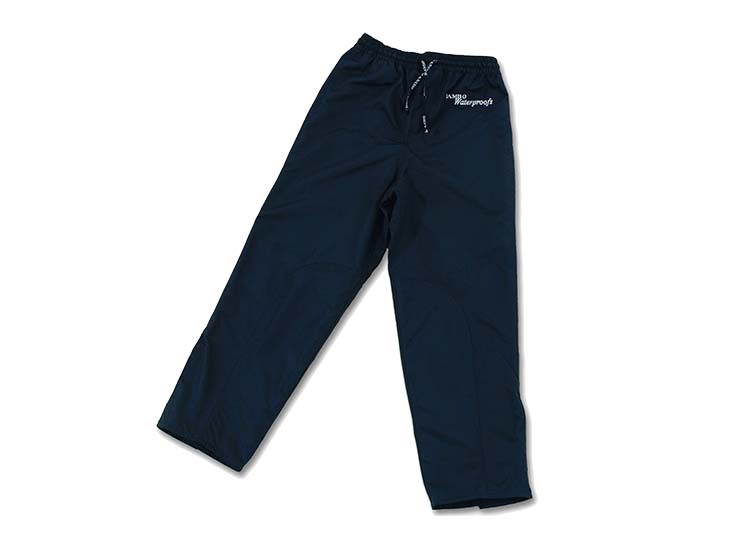 ---
Pros and Cons
Zipper at bottom of leg
Reflective strips for visibility
Unique colour
No seat/grip
---
These are a simple pair of children's waterproof riding trousers that are well-suited for all-around use. They do not have fleece lining like the Horseware Chaps on this list, so these are better for climates where the rider does not need that extra warmth from the fleece. It has an elastic waist with a high back for comfort and no slippage.
They are pull-on; however, they do have a zip at the bottom which makes it easier to put on boots. These do have reflective strips, so they are suitable for hacking or riding in low-light conditions. They do not have a seat for extra grip. These are also navy, which is different from most of the options on this list. That is great if you are looking for a pop of colour to add to your child's riding gear.
---
Sizes
7-9 yrs, 10-11 yrs, & 13-14 yrs
---
Horseware HWH2O Unisex Waterproof Trousers
The best year-round trousers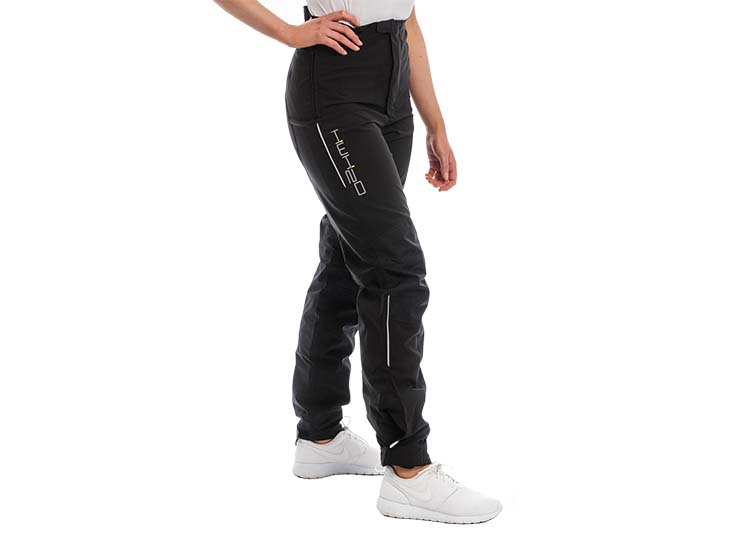 ---
Pros and Cons
Adjustable for a better fit
Stylish design
No seat/grip
Waterproofing not as durable as others
---
These trousers are great for year-round use because they are lightweight and breathable and offer protection from both the wind and rain. Style-wise, they are fashionable enough to wear outside of the yard. They have lighter accents for visual appeal as well as an elastic waist and adjustable cuffs on the legs, creating the perfect fit.
They have reflective strips for safety and visibility, so these are also an option if you like to go on hacks. The trousers have pockets that are secured with a zipper to keep your belongings safe. Like the Harry Hall trousers, these were also tested for waterproof ability with a rating of 5000/5000mvp.
These are ideal if you need a pair of trousers to wear all year, in or out of the yard.
---
Sizes
X-Small (28″), Small (30″), Medium (32″), Large (34″), X-Large (36″), & XX-Large (38″)
---
LeMieux Unisex Drytex Stormwear Trousers
Best for grip and stability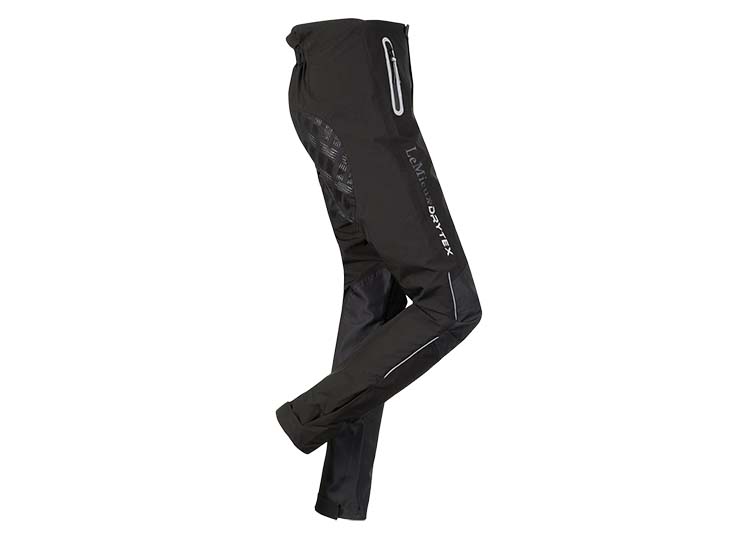 ---
Pros and Cons
Full-seat design with strong silicone grip
Reflective strips for visibility
Limited sizing
Unknown waterproofing strength
---
These trousers from Lemieux are built to withstand wet, cold temperatures. Designed to comfortably fit over your breeches, they are great to wear while riding or doing yard chores. A defining feature of these trousers is its silicone full seat which offers enhanced grip and stability while riding—perfect for slick situations.
These trousers were designed with comfort, safety, and durability in mind. The elastic leg straps and high-waisted design prevent the trousers from riding up or down while you are wearing them. This is an important feature because riding trousers can quickly become uncomfortable when they start bunching up at the ankles or slipping down your waist. Lemieux's design expertly combats this problem.
Additionally, the Drytex Stormwear trousers have reflective strips and zip-up pockets on the sides, making these a wonderful choice if you plan to wear them out on a hack. The reflective strips will make you and your horse more visible in dreary weather, and you can use the pockets to carry your phone and other small important belongings.
Overall, these trousers are an excellent choice if you need something you can wear year-round that is stylish but also comfortable, durable, and includes certain safety features like a silicone full seat for grip and reflective strips for visibility.
---
Sizes
UK 6 (XS), UK 8 (S), UK 10 (M), UK 12 (L), UK 14 (XL), & UK 16 (XXL)
---
Horseware Rambo Full Leg Fleece Lined Chaps (kids)
The best children's trouser for winter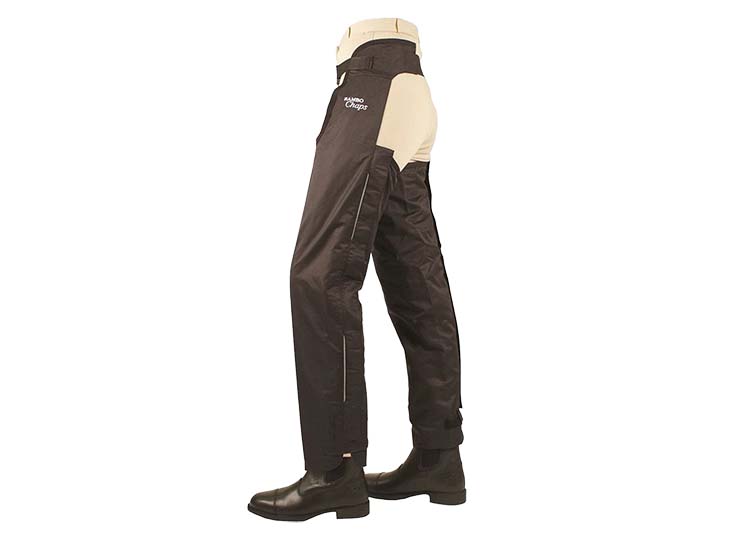 ---
Pros and Cons
Fleece lined for warmth
Reflective strips
No seat for added grip
Chap design exposes rider to the elements
---
These are fleece-lined waterproof riding trousers, making them a great option for children in the cold winter months. These will fully protect riders from the elements with the fleece providing warmth while the waterproof material keeps them dry. They are easy to get on with a full-length zipper on the side, which is unique in comparison to the others on this list. It is also worth pointing out that these are chaps, meaning the back and front is open and your breeches will be directly touching the top of the saddle when you ride. This might not be ideal in some conditions if the rider must sit on a wet saddle.
These have reflective strips for safety, so they are great for peace of mind if your child wants to go out on a hack. They don't have any grip or seat. They do have an adjustable strap on the back, though, which is perfect for growing kids.
The fleece-lined element of these chaps make them the top choice for children riding in the winter, but the other features like reflective strips and adjustability are great as well.
Shires Aubrion Unisex Waterproof Trousers
The most affordable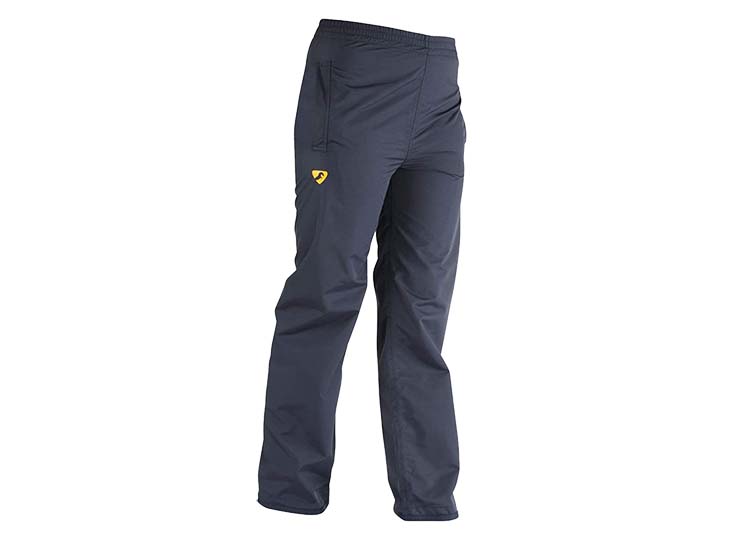 ---
Pros and Cons
Affordable
Pull-up elasticised waist
No reflective strips for low-visibility riding
No seat/grip
---
The Shires Aubrion trousers are one of the simpler options on this list, however, it is worth noting that they are the cheapest pair in this group. They are easy to get on and off with a pull-up, elastic waist. Additionally, they are designed to prevent leaks through the seams which is perfect for riding in the elements. They also have pockets, which can come in handy.
They do not have reflective strips, so they will not provide any extra visibility while riding in low-light situations. Also, unlike the other options, these trousers do not have a "seat" which means they do not have as much grip.
Overall, these are perfect if you are shopping for a no-frills pair of trousers and your main concern is the waterproof element.
---
Sizes
XS (UK 8-10), S (UK 10-12), M (UK 12-14), L (UK 14-16), & XL (UK 16-18)
---
Harry Hall all-weather waterproof riding trousers
The best for comfort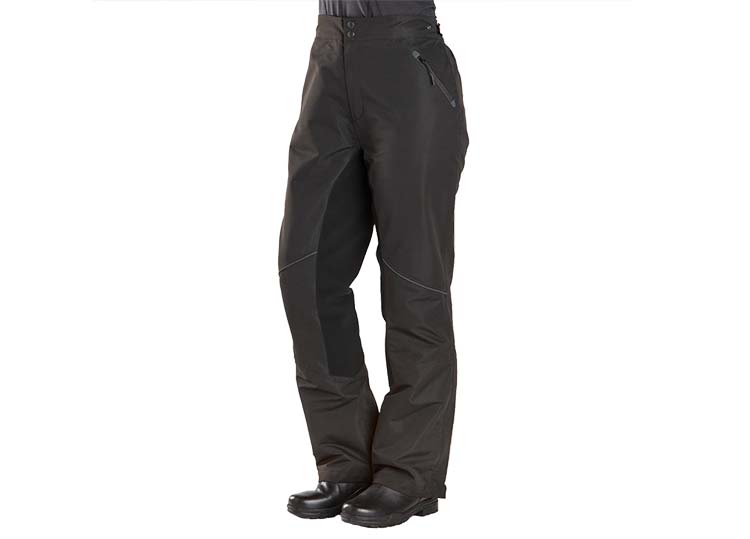 ---
Pros and Cons
Suede full seat for extra grip
Zip-up bottoms for ease-of-access
Minimal reflective accents
Less flattering
---
Harry Hall's trousers have many features for comfort and ease of access. One unique attribute is the zipper on the bottom that makes it easier to put boots on. It also has an elasticized high waist that maximizes comfort and similarly prevents it from slipping down while riding. These trousers also have a suede full seat to improve grip while riding.
One big plus about these trousers is that there is accessible information about the extent of its waterproof abilities. They are hydrostatic head tested which means the fabric was evaluated to see how much water it can withstand before it starts to leak through. These trousers are proven to withstand up to 10,000mm of water, making them a reliable choice to wear in rainy conditions.
It does have reflective strips, but they are dark and not as noticeable as others on this list. So, while these trousers could be useful for hacks and other riding off-the-yard, they might not be the best option if you are looking to wear them for that specific use. All in all, the Harry Hall riding trousers are a great all-around option if you need something reliable, durable, and comfortable.
---
Are you ready for winter? Check out our article on The Best Neoprene Wellington Boots for Winter and be prepared!