The Best Horse Grooming Kit for Horses and Ponies
There's no one-size-fits-all horse grooming kit. Whether you're looking for a luxury or basic grooming kit, here are our top picks.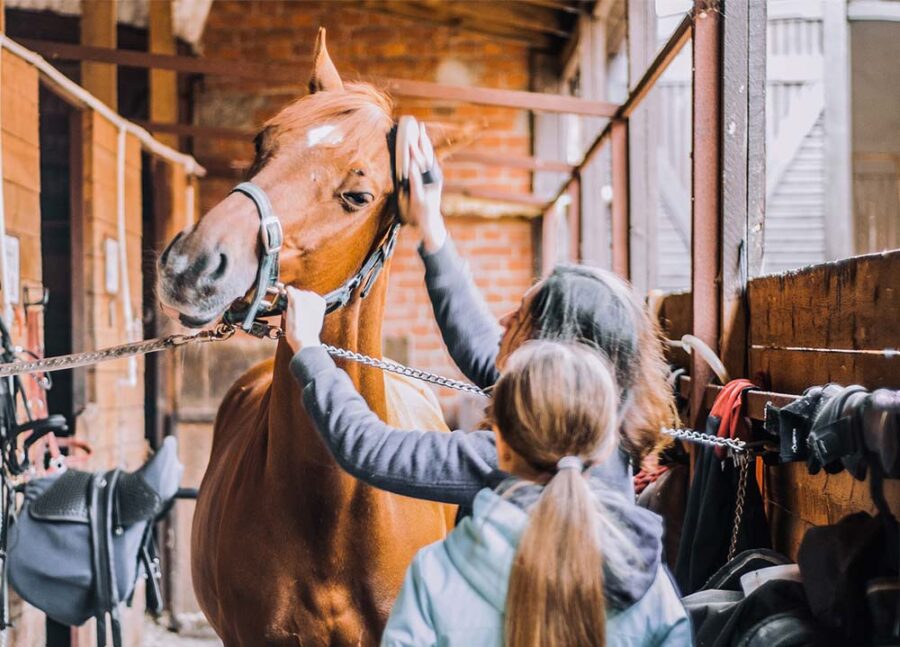 Picking a horse grooming kit isn't easy, as there are so many to choose from. Will you build your own – buying each component individually, or start with a set? Even then, there are options. Are you looking for a luxury horse grooming kit, or a basic kit perfect for a first horse? No matter what you choose, we've selected some of the best offerings on the market (including a great option for kids.
There's no one-size-fits-all grooming kit. Some contain only the most necessary brushes, whilst others include sweat scrapers, hoof oil brushes, and everything in between. Because of this, it can be difficult to pick a grooming set – particularly if you're buying one as a gift. If in doubt, obey the following rules: if the recipient has been around horses for some time, consider buying a single high-quality brush, rather than a full set, as they are likely to have most items already. Inversely, if you're buying for someone who hasn't been around horses long, then opt for a more complete, budget set.
In no particular order, here's our pick of the best horse and pony grooming kits.
Jump to
Horse Grooming Kits
It might seem insignificant, but picking the right horse grooming kit can save you a lot of time and frustration. Although there are benefits to more expensive grooming kits, as our comparison shows, most of the time cheaper options will give the same outcome as their pricier cousins.
No matter if you're looking for a child's grooming kit, a luxury horse brush, or a budget grooming set to get started, we've got you covered.
Roma Cylinder Grooming Kit 9 Piece
The best budget grooming kit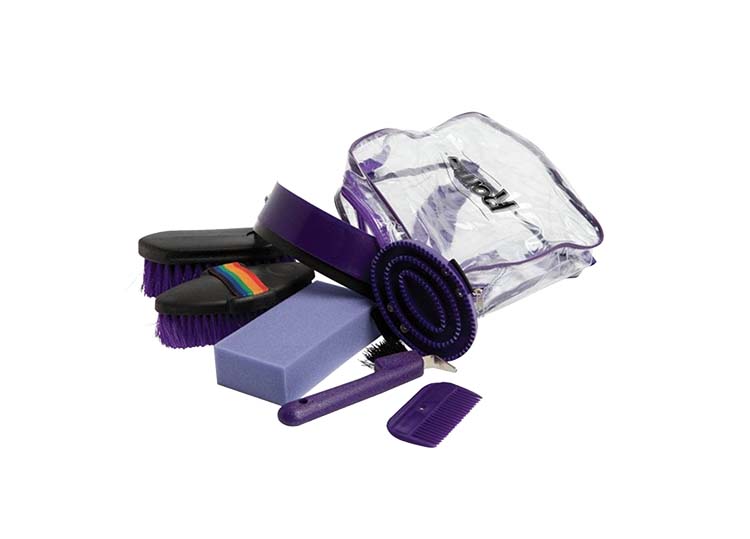 ---
Pros and Cons
Includes everything needed to get started
Plastic handles
Flimsy storage bag
Limited colour options
---
The 9 piece grooming kit from Roma comes with everything you need to get started, and looks great. The contains a body brush, dandy brush, sweat scraper, curry comb, hoof pick (with a brush), mane comb, mane and tail comb, rubber bands, and a sponge. What's more, it's supplied in a handy carry case. Although the carry case feels flimsy, it's perfectly good for something at this price point. Also, in the event you need a sturdier carry case, they can be bought separately.
Every brush comes with a plastic handle and nylon bristles, meaning the brushes won't rot.
Hy Thelwell Grooming Rucksack Navy (Childs)
The best kids grooming kit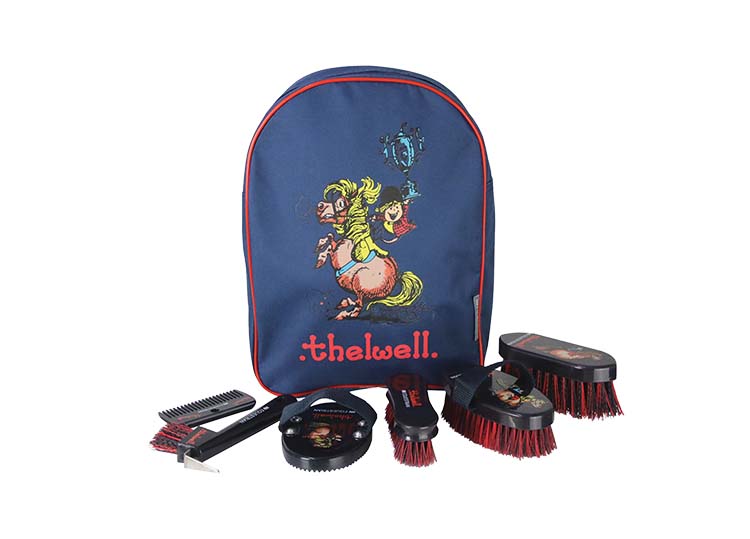 ---
Pros and Cons
Aimed at kids
Tractor style also available
Dark brushes are easy to lose
No sweat scraper
---
This kit from Hy is targeted at kids and comes in two styles: tractor or horse rider. An obvious benefit of this is that the backpack is kids sized – meaning that they can take charge of their own equipment!
The kit includes a body brush, dandy brush, face brush, hoof pick, mane comb, and curry comb. Note that the kit does not include a sweat scraper or a sponge, however, these can easily be bought from a tack shop if required.
Overall, this is a great kit for children, and it would make a perfect Christmas or birthday present for anyone who enjoys caring for their horse.
Hy Sport Active Complete Grooming Bag
The best all-round grooming kit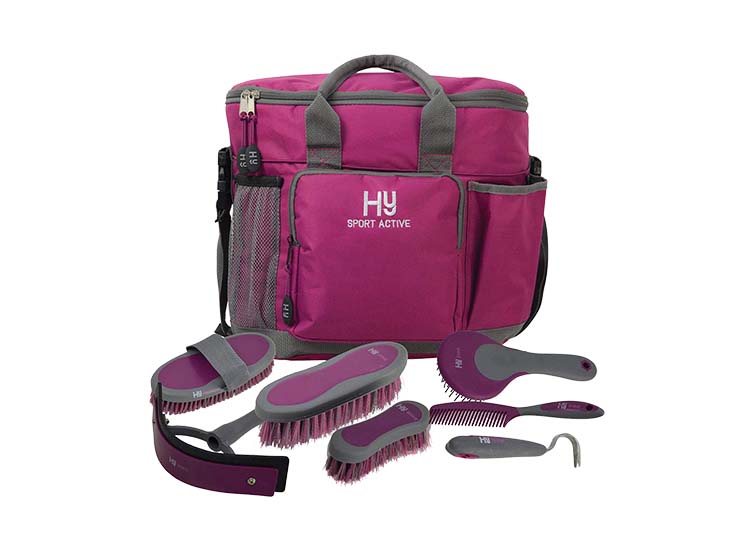 ---
Pros and Cons
Available in a range of colours
High quality bag
---
Perhaps the most noteworthy aspect of the Sport Active horse grooming kit from Hy is the quality of the carry case. There are also six colours to choose from, including red, navy, and turquoise. What's more, the brushes match the colour of the carry case.
Aside from the carry case (which has multiple pockets, a high-quality zip, and shoulder strap), the kit includes a mane and tail brush, comb, body brush, dandy brush, face brush, sweat scraper, and hoof pick.
Although this grooming kit is the most expensive we've included in our comparison, the quality and design mean, in our opinion, it's reasonably priced.
---
Colours
Black
Navy
Purple
Blue
Pink
Deep pink
Red
---
Decathlon Grooming Kit
The best starter grooming kit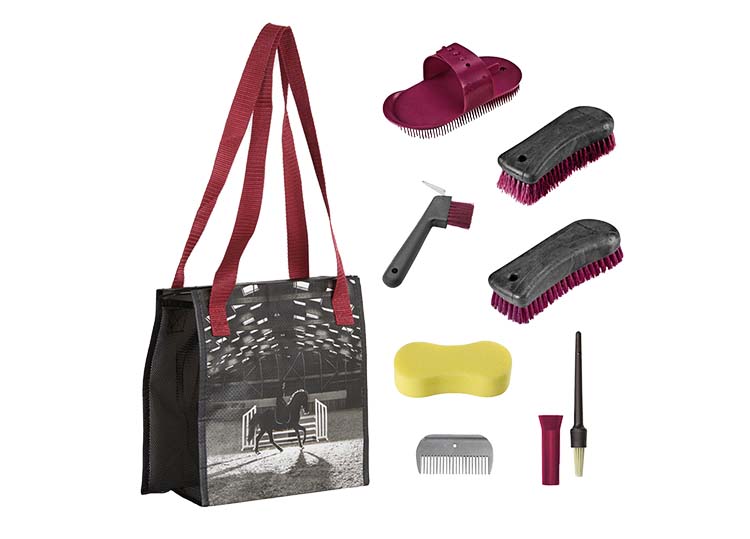 ---
Pros and Cons
Great value for money
Contains everything you need to get started
Basic carry case
No sweat scraper
---
If you've only recently got into horse riding, or are on a strict budget, then consider this grooming kit from Decathlon. It contains all of the basics, as well as a hoof brush (which many of the others we've covered here do not!).
Although the carry case is basic, at only £12.99 RRP it's hard to complain. The kit includes a curry comb, dandy brush, soft brush, hoof pick, grease/hoof brush, sponge, and comb. It is also available in two colours: green and purple.
Premier Equine Soft-Touch Grooming Kit Set (9 Pieces)
The best luxury grooming kit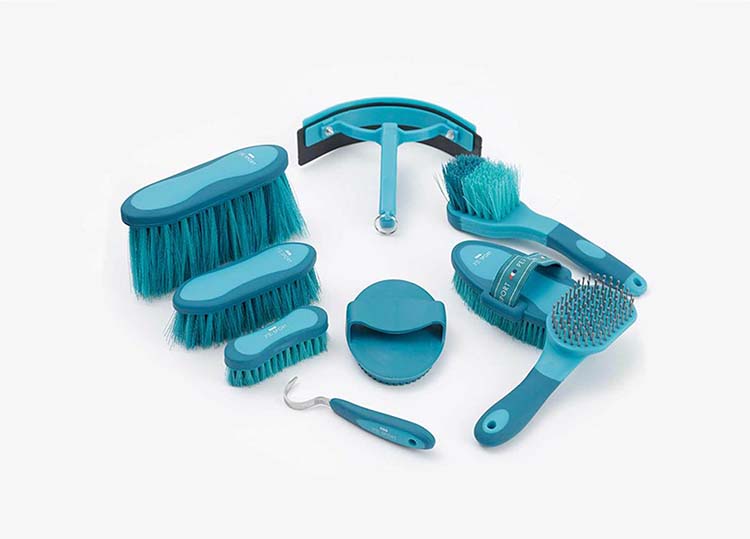 ---
Pros and Cons
Range of colours available
High quality
No carry case supplied
Negative
---
As with most products from Premier Equine, it's hard to find anything bad about their soft-touch horse grooming kit.
The kit includes a body brush, 2x dandy brush (medium and large), face brush, mane and tail brush, curry comb, hoof pick, bucket brush, and sweat scraper. Notably absent from this grooming kit is a carry case; everything arrives in a plastic blister pack which is impractical to reuse.
The grooming kit comes in a variety of colours (found by navigating the Premier Equine website – link below), including 'Med Blue & Peacock', as is pictured above.
Haas Lipizzaner Horse Grooming Brush
The best horse brush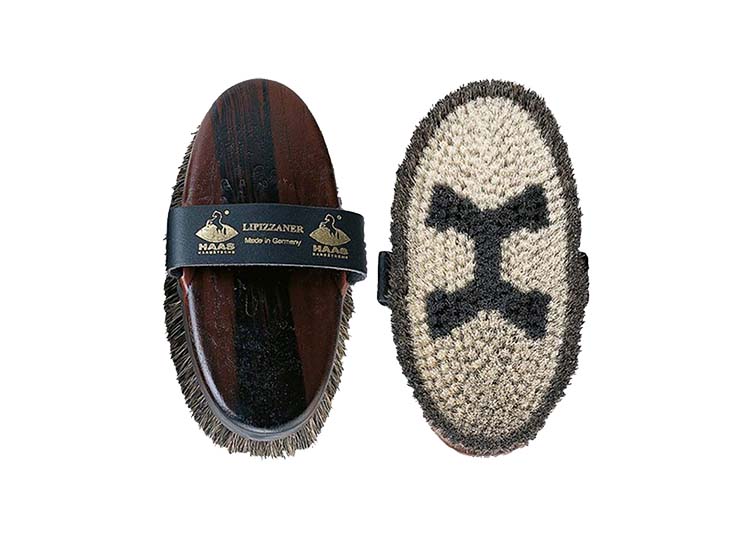 ---
Pros and Cons
Built to last
Renowned brand
---
Haas Lipizzaner makes some of the best grooming brushes in the world, and this is no exception. Made from horsehair, the brush is designed to generate a glossy coat by removing dust and dirt.
The brush features two lengths of bristle: a shorter bristle for gentle cleaning, and a longer one to remove dust. The operator's comfort is also considered; the brush features an ergonomic plastic handle and a leather strap.
Although the brush is expensive, many argue that it's worth the premium price owing to the features outlined previously.
---
Frequently asked questions (FAQ)
What do you need in a horse grooming box?
When picking the most important things to include in a grooming box for your horse, focus on what you use the most. It also depends on where you intend to use your kit. For example, a horse grooming kit for competitions might differ from the one used at home. Ultimately, you'll determine what you need for yourself over time.
Common grooming kits items:
Grease brush
Hoof pick
Curry comb
Dandy brush
Soft brush
Sponge
Comb
Sweat scraper