How to Load a Stubborn Horse Into a Trailer
Eventing is already stressful enough without worrying about loading your horse. As anyone who's been affected by loading issues knows, the worst part is determining…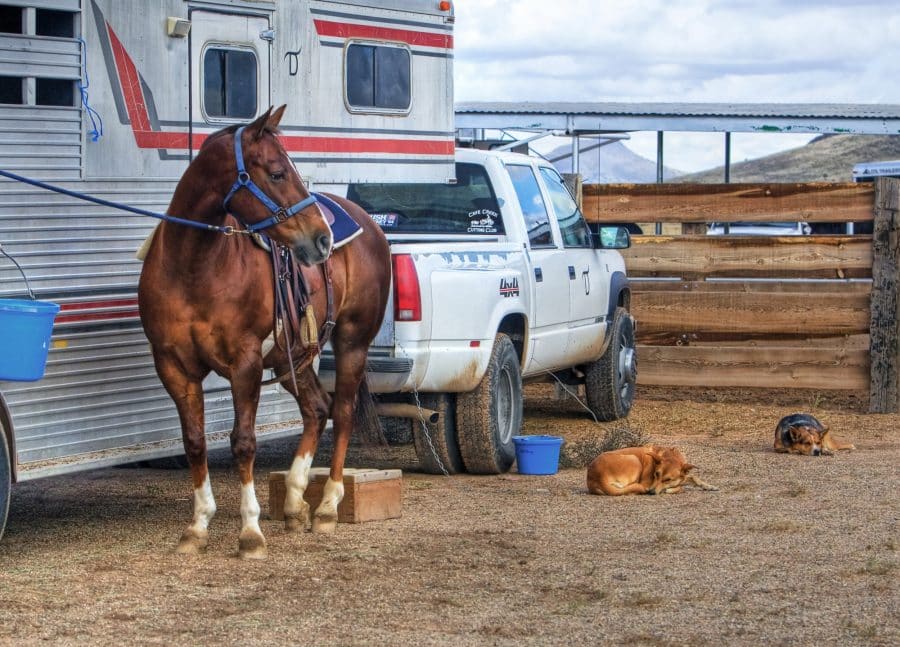 Eventing is already stressful enough without worrying about loading your horse. As anyone who's been affected by loading issues knows, the worst part is determining whether you need to leave an extra 20 minutes for loading or not. If you're having issues don't worry: at one time or another all three of my most recent horses have been bad to load – the problem is common.
The most important thing to determine is whether your horse is being difficult on purpose, or whether they are truly fearful of the trailer, as this will influence how you resolve the issue. In the latter instance, it's particularly important to not grow frustrated with seemingly little progress, as this will increase your horse's fear, and clearly this will only make things worse.
Encouraging a horse into a trailer with food
If in doubt, food is your friend. Feeding your horse in their trailer is one of the most effective methods, as not only does it encourage them into the trailer, but it also acts as positive reinforcement – showing them that being in the trailer is a good thing.
Ideally, you should park your trailer in your horse's paddock, open both the front and back door, and leave their food somewhere that they'll have to walk into the trailer to access. Sometimes your horse won't take the bait immediately, so closely monitor their health/well-being during this time and only give in if you believe your horse is becoming unwell.
If you can't park your transport in your paddock then secure your trailer, open both the front and back door so that your horse can see from front to back, place their food in the trailer, and try and load them. When they finally load you should let them have their food immediately and leave via the front ramp as soon as they wish to.
Lead in loops
We've touched on this above, but don't discount the value of light. Even us humans recognise that a shady, confined area is often less inviting than an open, airy, and light spot. When trying to load your horse it can help to have both the front and back ramps open.
With both ramps open, and all breast bars removed, etc. load your horse, but don't stop – load your horse but carry on walking through the opposing ramp (unload them). Repeat this until they don't hesitate.
You should repeat this exercise for at least 5 days, and it's important that you don't skip a day or grow visibly frustrated at your horse's recalcitrance.
A temporary solution
This is by no means an effective long-term solution, but if you're ever caught off guard by a horse that's unwilling to load it can work surprisingly well.
Take a lunge line, tie one end to your lorry on the opposite side of the ramp than your leading in on. Load your horse as you normally would, but gently pull the lunge line around your horses bum using the side of the long rein that you haven't tied to your trailer.
This method works even more effectively with assistance. If you have a helper have them pull the long rein taught across your horse's bum. If you have two grooms then have each hold one end of the long rein (no need to tie it to the trailer), and get them to slowly walk towards your horse – you might find that the site of a long line coming towards their bum is enough to get them moving forwards alone.
---
I hope these tips help you with loading your horse. Use as many of the methods as you see fit.
Have a suggestion? Leave a comment!