Equestrian Chores to Tackle Under Lockdown
With lockdown in full swing now's the perfect time to carry out all of those chores you've been putting off for months. We've included a…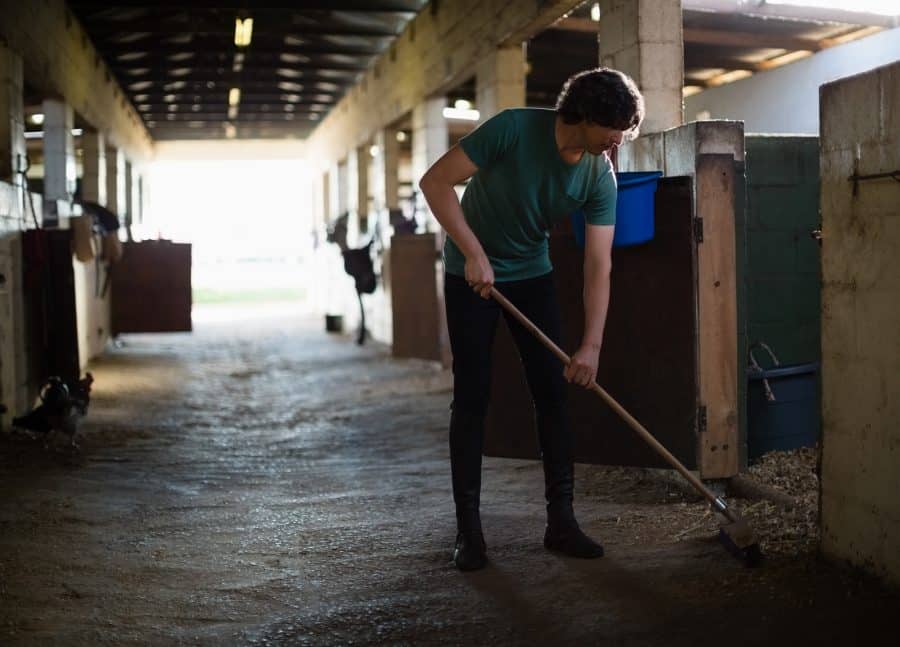 With lockdown in full swing now's the perfect time to carry out all of those chores you've been putting off for months. We've included a list of 10 things to do (some of which were suggested by our Instagram followers), and have made sure there are tasks for everyone – no matter if your horse is stabled at home or on a restricted access livery yard.
#1: Wash, disinfect, and paint your stable
As with a number of things on this list, this one's only appropriate for those who are fortunate enough to have their horses stabled at home. As your horse begins spending more time outside and the weather continues to warm up (facilitating readier drying of their stable) now is a great time to begin thinking about rejuvenating your stable.
Depending on your confidence in the weather to dry your stable out in an appropriate amount of time you may want to power wash your stable and mats to remove stubborn stains and smells. Whether you decide to powerwash your stable or not, we'd recommend disinfecting your mats and stable to get rid of anything nasty that might have built up over winter. We typically use Dettol disinfectant, however, if you're confident in your own method be sure to leave a comment below to help your fellow equestrians out!
If your stable is painted you could also give it another coat of paint to keep it in tip-top condition. Don't forget, if you have a spare stable you can work through one stable at a time, moving horses in and out of the stable you're working on into your spare.
#2: Wash and repair your horses rugs.
With temperatures on the up as we enter summer now's your chance to wash and repair your fairer weather rugs after their faithful service through winter and spring, even if you no longer want the rug (see step #3).
#3: Sell any unwanted items on eBay
Because of the global demand for delivered goods online outlets are struggling to meet demand – Amazon are predicting delivery dates almost one month after order date for all "non-essential" items. This means that prices on auction sites are rocketing (in some instances to more than the original retail price of the item – even for second hand products), so take advantage of this and list your unwanted tack and rugs on eBay and recoup some of your investment to put towards future purchases!
If you're concerned about leaving your property you can arrange for a courier to pick the item up – Hermes offer an incredibly cheap service (typically less than £1 extra for pickup).
#4: Update your emergency contacts and horse injections on membership cards
Although not fun it's important to make sure that your documents are up to date. A great place to start is by checking that all of the injections listed on your memberships are up to date, and that your emergency contact details are correct.
#5: Sweep out your feed and tack room
Another task only suitable for those with their horses at home, and again, one that should be done far more frequently than we do it. Give your tack and feed rooms a good sweep, and if you think it necessary, a wash down with a dilute disinfectant (such as Dettol). You won't regret spending time here in the long run – as a bare minimum it will help to keep away pests.
#6: Clean your clippers
We've got a video coming out on this very soon. After a winter slog of successive clips your clippers likely need some TLC. Check the edge on your blades, and set them aside to send away for sharpening if appropriate. Otherwise remove the blades from your clippers, brush away any hair and grime, and apply oil matching the manufacturers requirements to prevent the onset of rust. If you want to be extra safe you can add a small amount of oil to an old tea towel and wrap your freshly oiled blades up to provide another layer of protection.
#7: Clear out your lorry
It's a sad realisation, but most of us won't be using our lorries for the foreseeable future. Take advantage of this down time – begin sorting the items you've accumulated in your lorry over the past months so that when we get a grip on CV-19 you can enjoy your lorry to the maximum.
If you can't foresee using your lorry for several months then make sure you run it periodically to see off any potential issues arising from rest. If you're able to run your lorry without using public highways, and pay your road tax on a monthly basis then you can register your vehicle as "off the road" (SORN – Statutory Off Road Notification), meaning you don't have to pay road tax until you next want to use it (UK).
#8: Clean your tack
Although this should be done every time you ride, we've all got better things to be doing. If you're like us and don't care for your equipment as much as you should now is a great time to clean and polish your tack. You won't regret it in the long run as it's bound to extend its lifespan!
#9: Work on ground manners
If your horse is stabled at home and you have the patience to work out poor ground manners, then now's as good a time as any to do so. Consider any vices that your steed has – such as an apparent inability to stand at the mounting block – and work them out. After all, you've got the time to commit.
#10: Clean your brushes and grooming kit
Almost too obvious to list. Owing to restrictions on activities we're all spending much more time brushing our horses than we usually would. Make your life a bit easier: clean and organise your grooming kit and brushes.
This list is by no means exhaustive. We'd love to hear your suggestions for things to do around the yard under lockdown – leave a comment if you have something to add!