The 12 Funniest Horse Names of All Time
Funny horse names are part of owning a horse – everyone knows a horse needs a nickname! Here are our 12 favourite funniest horse names.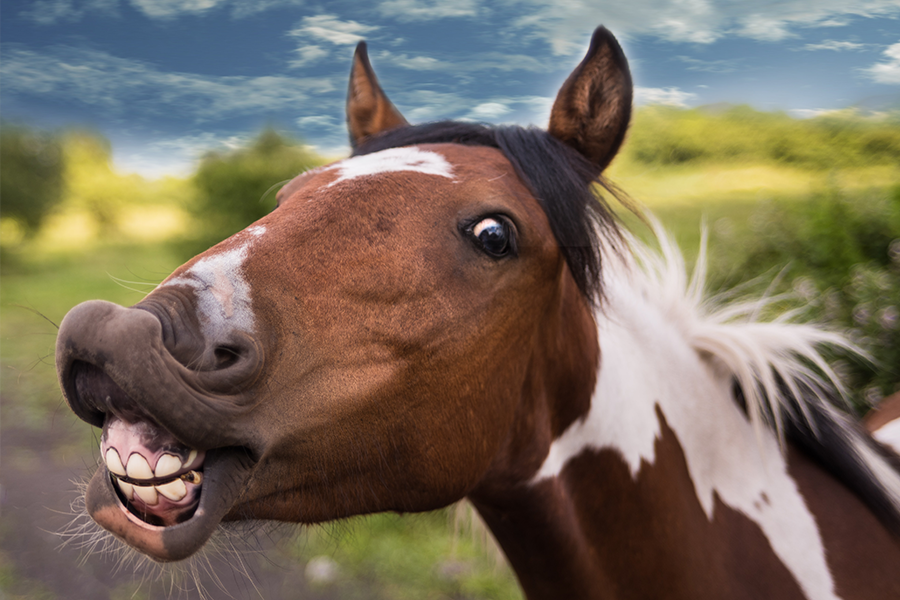 There's a wide spectrum of funny horse names, ranging from cute to the bizarre. Whilst some make sense, the reasoning behind others can be less than clear. We've skipped past the most obvious names – Treasure, Lucky Charms, etc. – and brought together the 12 funniest horse names of all time. Perhaps the best part about our compilation is that the best names are all real!
Neigh Sayer
Need we say a-neigh more? This particular chap wasn't the most enthusiastic about entering water, and the rest is history!
Hay-Zeus
This name is a play on words, combining "hay" with the name of the Greek god Zeus, who is considered the ruler, protector, and father of all gods and humans.
National Debt
Another obvious name; this one's justifiable for almost any horse, and would make a perfect brother to Second Mortgage. But let's be realistic, whilst National Debt is befitting of many horses, each and everyone is a one in a million – and you can't put a price on that (even if a name is necessary)!
Usain Colt
There's a fair amount of wit involved with this one, and it's origins are obvious.
Kate Wins-a-lot
I must confess, I have only heard of a horse going by this name through an acquaintance – I'm certainly not fortunate enough to name my horse anything like Kate Wins-a-lot, and Kate Comes-in-fifth doesn't have quite the same ring to it.
Whykickamoocow
This fantastic name belonged to a racehorse. Who knows where this funny horse name came from, but it's sure to have an interesting back story!
Hemioneigh
This is practically irresistible for any bay mare. Just make sure your horse doesn't learn about win gar dium levi ohhh sa – they probably don't need a hand in throwing you off.
Harry Trotter
Made even more perfect if you already have a Hermioneigh in your stable!
Sylvester Stallione
You really need look no further than Sylvester Stallione. Encapsulating good looks, strength, and charm this one's definitely an accolade.
Buckethead
This one's straight up mean!
Notacatbutallama
If this one strikes you as odd, then you're not alone Notacatbutallama (Not a cat, but a llama) is an 11-year-old gelding owned by Repole Stable. Although he started out his career as a racehorse, in retirement he's taken to social media, and has amasseded several hundred followers.
Onoitsmymothernlaw
Another racehorse. Although we daren't speculate on the exact reason for naming the bay mare this, we imagine there's a hearty story behind it! One thing's for sure: it makes for great racing commentary.
AARRRRRRR
There are certainly other strong contenders, but this name wins the award for being the most entertaining when read out by a commentator!
---
If you enjoyed this article, you might also like: