The Most Expensive Horses Ever Sold
Every equestrian knows horses are pricey, but the most expensive racehorses, show jumpers, and dressage horses can cost millions!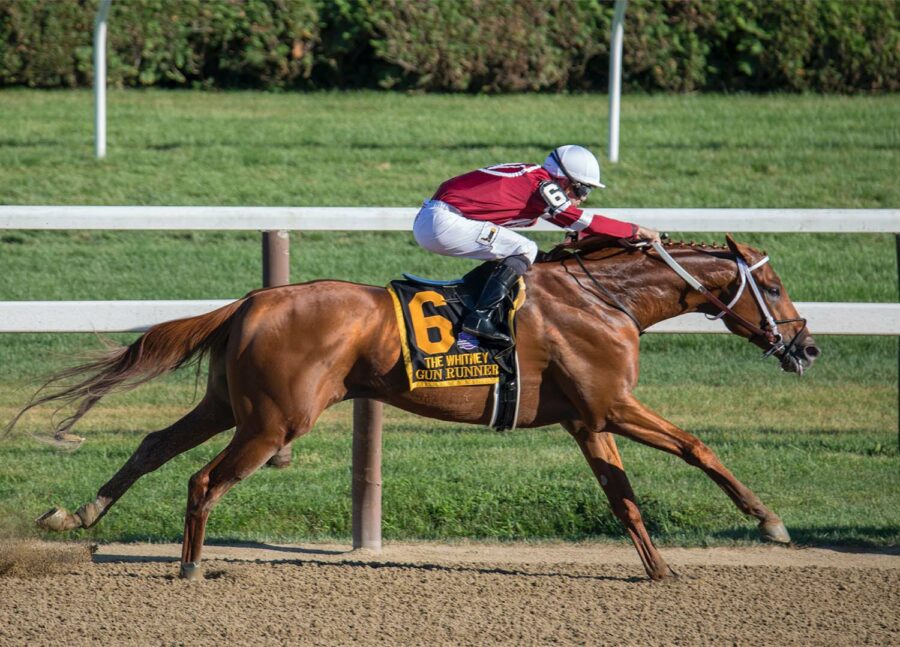 Whilst even owing a typical horse isn't cheap, the price tag of some of the worlds most expensive horses are jaw dropping. A standard horse can be bought for under $5,000, whereas most show horses range from $10,000 to $50,000. However, the most exceptional racehorses, show jumpers, and dressage horses can fetch exorbitant amounts of money. Just how expensive can they get? Join us as we reveal the most expensive horses ever sold and delve into the factors that make them worth millions. Get ready to be amazed!
Why do horses cost so much?
One reason that horses cost so much is because of their potential to generate an income. Cash prizes at competitions can extend into the millions, meaning top competitors have the opportunity to win large amounts of money – provided they have the right horse. For example, racehorses that win the Triple Crown often earn $5 million in purse money from the three races, whilst the Pegasus World Cup race in Dubai has a $16 million purse. Racehorses that are consistently at the top of the leaderboard can earn lots of prize money quickly. Large purses are why racehorses tend to be the most expensive type of horse to buy; prize money is not awarded at every show jumping or dressage competition, and the largest prizes are typically less than $3 million.
It's important to note the particularly high prices that stallions can achieve. Stallions can breed, and unlike mares are not limited to one foal per year. Stallion owners get an income from stud fees from outside mares, as well as any foals they breed themselves. Stud fees for top horses can be over $100,000, so quality stallions can earn a lot of money – even after they're done competing.
The most expensive racehorse ever sold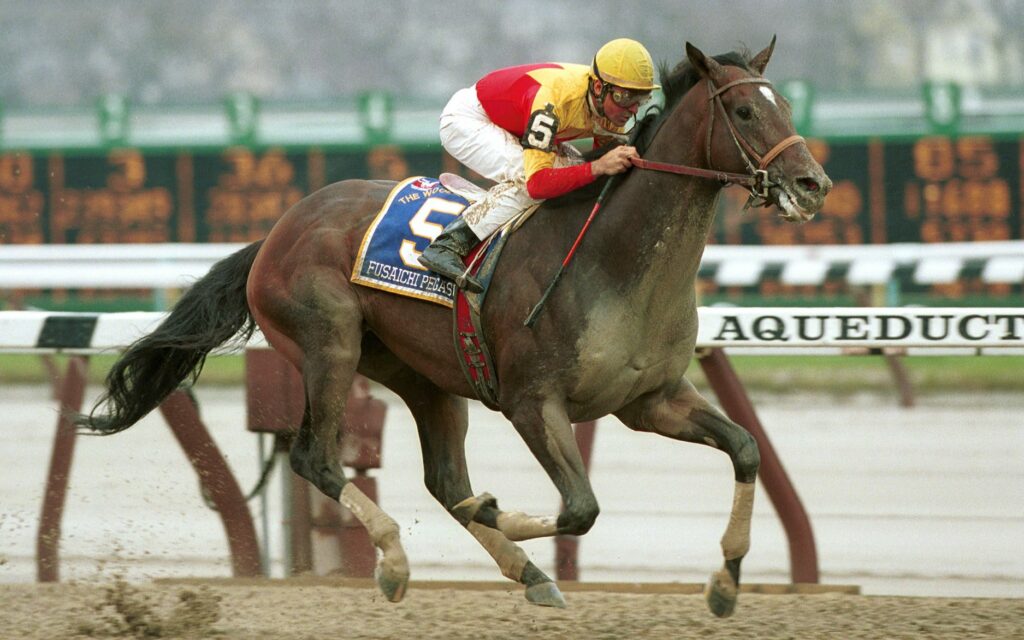 Fusaichi Pegasus is the most expensive racehorse to date, having sold for $70 million. Fusaichi Pegasus is by the great Mr Prospector and out of a mare named Angel Fever. The bay 16.1hh stallion was foaled on April 12th, 1997. He was the winner of the Kentucky Derby in 2000, losing out on the Triple Crown when he finished second in the Preakness. His total career earnings were about $1.8 million.
Fusaichi Pegasus's owner, Fusao Sekiguchi, sold the stallion for $70 million to Irish-based Coolmore Stud. This beat the previous sale record holder, Shareef Dancer, who sold for $40 million in 1983. Following his win at the Kentucky Derby, he was put up for sale again, and received hefty bids – including from Sheik-Mohammed of Dubai. His Derby win combined with his quality, conformation, and bloodlines made him highly desirable.
In 2001, he was placed at stud for the fee of $150,000. Unfortunately, it was quickly discovered that Fusaichi Pegasus was not a quality producer. His stud fee slowly decreased throughout the years. It dropped to $75,000 in 2007, $45,000 in 2008, $30,000 in 2009, $15,000 in 2010, and $7,500 in 2011 (where it remained until he retired in 2020).
The most expensive show jumper ever sold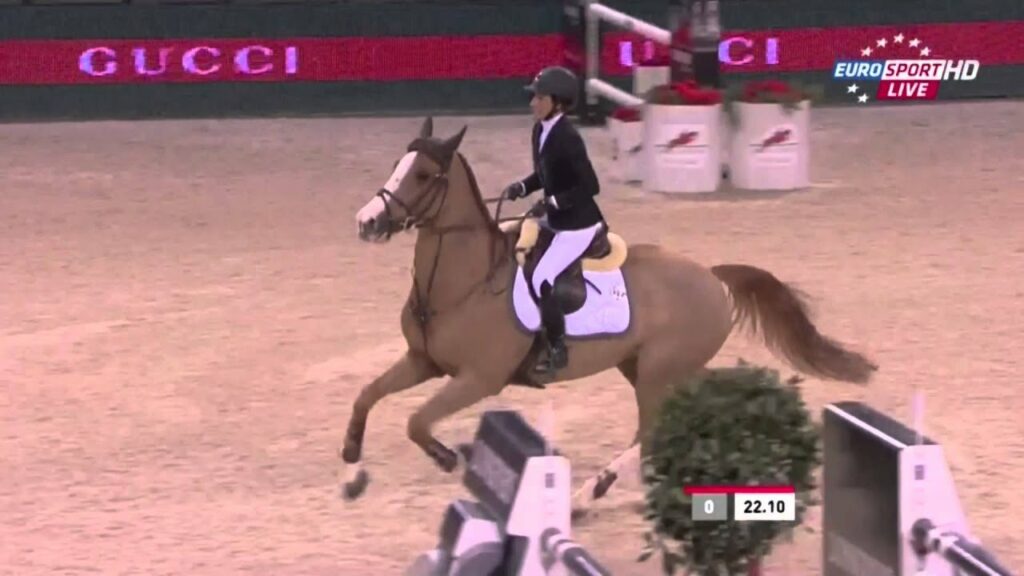 Palloubet D'Halong holds the record for the most expensive show jumper ever sold. The 16.1hh chestnut Selle Francais gelding was born on May 19th, 2003 and is by Baloubet du Rouet x Muguet du Manoir. In 2013, he placed second in the Rolex Grand Prix of Aachen and seventh in the PSI European Championships. He also jumped two clear rounds in the Furusiyya FEI Nations Cup, once at Rotterdam and once at La Baule. He was ridden by the Swiss jumper Janika Sprunger.
Dutch jumper Jan Tops purchased the gelding from Hansueli Sprunger in September 2013 for $15 million. It was reported that Tops purchased the horse for his wife, the Australian jumper Edwina Tops-Alexander. Sprunger had originally turned down multiple offers for the horse as he wanted to keep him for his daughter, Janika. However, after the European Champions and an overall impressive year in 2013, D'Halong soared in value, and the multi-million dollar offers became too much to resist.
After his sale, he was shown consistently from 2014 to 2017, taking a year and a half long break before he returned to the pen in 2019. Despite reports that he was going to be ridden by Edwina Tops-Alexander, he ultimately competed with both Ali Yousef Al Rumaihi and Bassem Mohammed. He competed in 2-star, 3-star, 4-star and 5-star events until 2019 when he was last shown. It's unclear, but the 18-year-old gelding is likely enjoying retirement.
The most expensive dressage horse ever sold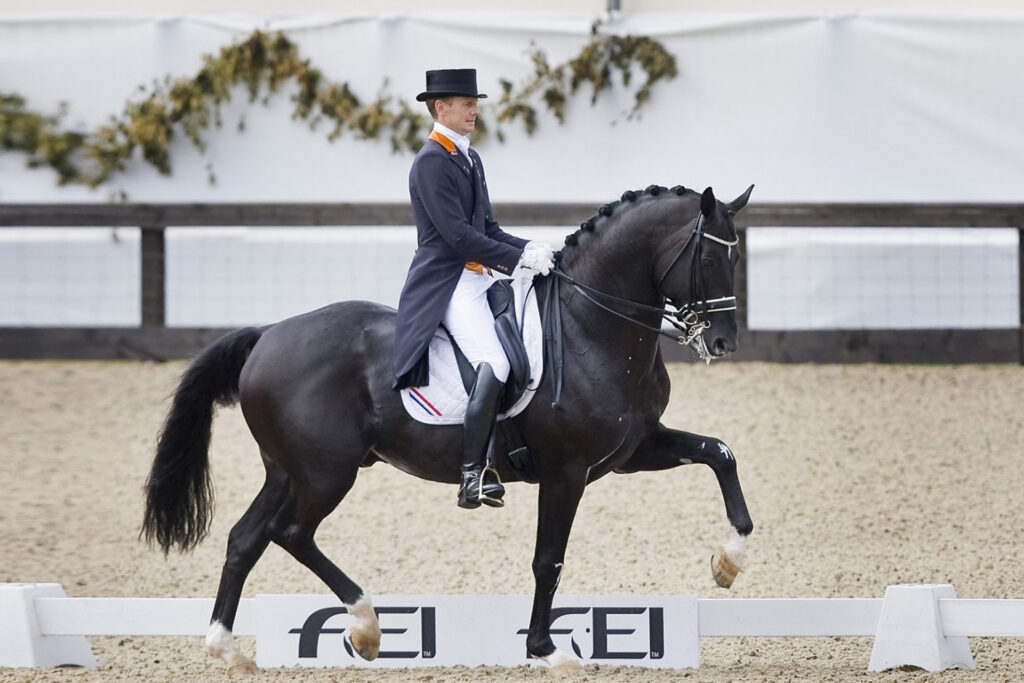 The famed Totilas takes the top spot for the most expensive dressage horse ever sold. He was purchased in 2010 for approximately $13 million. Totilas was a stunning 17.1hh black Dutch Warmblood stallion by Gribaldi and Glendale. His sale wasn't the only record he broke, either. Totilas broke numerous records in competition, including at the 2009 FEI European Dressage Championships where he was the first horse to ever break a 90% score. In 2010, he won the FEI Dressage World Cup Finals and three world titles at the FEI World Equestrian Games. He was ridden to notoriety by Dutch dressage rider Edward Gal.
Totilas shocked the world when he was sold to German breeder Paul Schockemöhle in October 2010 for around $13 million. He was expected to have a long career with Gal, so the sale was surprising to many. Schockemöhle did not immediately announce who would ride the stallion, but outlined how he intended to continue putting the stallion to stud. It was later announced that Matthias Alexander Rath would continue to compete with Totilas.
Totilas continued competing after his sale, but his show career was riddled with injuries and disappointment. Although he helped the German team win silver at the 2011 FEI European Championships, he failed to earn an individual medal. He eventually retired from competition in 2015 due to bone inflammation in his left hind. While his competitive career was cut short, he was a phenomenal stud. Two of his sons, Go Legend and Total US, recently competed at the 2020 Tokyo Olympics for the Dutch dressage team. Totilas sadly passed away on December 14, 2020 due to complications from colic.
---
Top equine athletes can be worth millions of dollars. Fusaichi Pegasus, Palloubet D'Halang, and Totilas all hold the record for the most expensive horses in their respective disciplines. Breeding prospects and competitive earnings make these horses worth a small fortune. Some of these records have not changed since the 2000s, but who knows, maybe there will be a new record holder soon!
---
If you liked this article, check out some of our most popular posts