Overcoming Girthiness in Horses
Girthiness is a response to pain or discomfort when a horse is being tacked up. Overcoming girthy behaviour is a must, here's how to do it.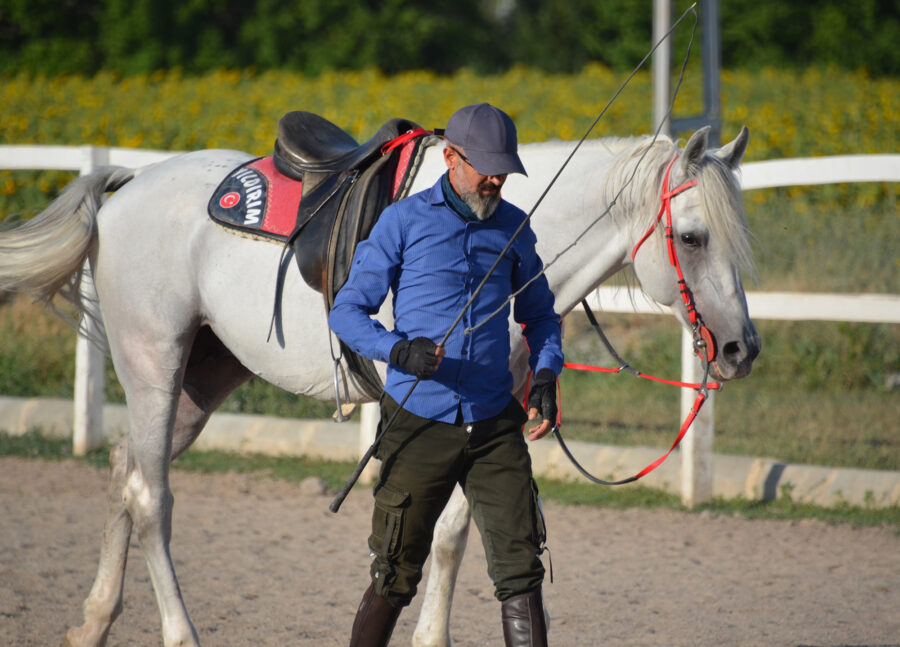 Girthiness – or being "girthy" – is a response to discomfort, and typically occurs when horses are being tacked up. Common behaviours include general irritability, such as kicking and the pinning back of the ears. Whilst girthy behaviour can arise in several circumstances, sensitive horses are particularly prone to reacting when being tacked up.
Why are horses girthy?
There are several reasons that a horse can be girthy. Girthiness is known to result from lameness, ulcers, stomach tumours, and more. Ultimately, girthy behaviour is the manifestation of discomfort.
In a 2019 study carried out by Esther Millares and Sarah Le Jeune, the researchers found that identifying the exact cause of girthiness remained extremely difficult. However, in most cases, stomach ulcers were the leading cause; of the 37 horses known to be suffering from girthiness that took part in the study, 92% were found to have stomach ulcers. As a result, when investigating girthiness, gastroscopy is advised to determine if ulcers are present.
Muscular and skeletal issues are also known causes. This can result from several factors, but a proper fitting saddle is believed to reduce the risk of musculoskeletal-related problems. Millares-Ramirez recommends having a saddler check that your horse's saddle fits as the first step when determining the cause of girthiness.
Of the horses that took part in the study, twelve had stomach ulcers, ten had spinal osteoarthritis or osteoarthritis-related issues, eleven had differing issues – ranging from tumours to urinary tract infections, and three exhibited 'resistant behaviour'.
Past trauma
Although girthiness starts as a response to sensitivity or pain, the behaviour can persist once the stimulus has disappeared. This is because the horse remembers how an act – such as the tightening of a girth – was painful, and therefore produces a response, even when one is no longer necessary.
Part trauma is extremely difficult to overcome and will require you to spend time retraining your horse. This may take days, weeks, or even months. However, you must pursue retraining with patience.
How do you cure a girthy horse?
There's more than one reason that a horse can be girthy. Research shows that when trying to cure a horse, you should first check that their saddle fits, is in good working order, and is positioned correctly on their back. If your horse's saddle is too loose, then it can slide around and even pinch your horse. Similarly, if their saddle is too tight it can restrict breathing and movement.
If your tack is fine, you should consult a veterinarian, who will perform a gastroscopy of your horse, to check for ulcers.
---
A girthy horse can add additional, unnecessary challenges to tacking up. There are several causes of girthiness in horses, including ill-fitting tack, stomach ulcers, and musculoskeletal pain. Depending on the cause, the fix varies. However, you should check the fit of your horse's tack, before consulting a veterinarian for further investigation.