How Much Does it Cost to Keep a Horse?
When considering buying a horse, many ask the question "how much does it cost to keep a horse?". Unfortunately, keeping a horse is notoriously expensive…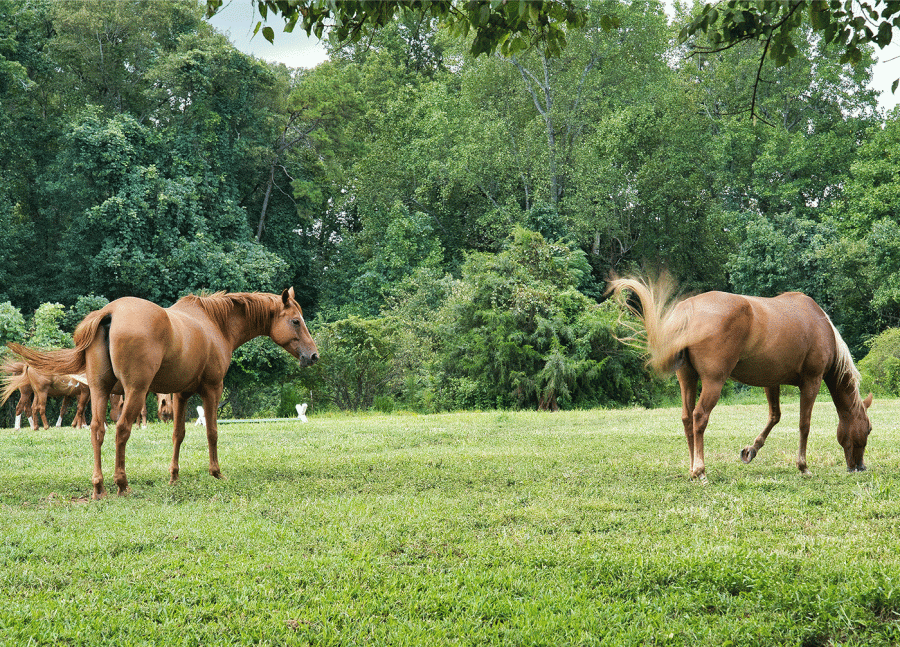 When considering buying a horse, many ask the question "how much does it cost to keep a horse?". Unfortunately, keeping a horse is notoriously expensive compared to other hobbies. However, it is often possible to make it work on your budget if you're willing to compromise.
In this article we're going to break down the costs associated with caring for a horse. This includes stabling, bedding, veterinary bills, horsebox insurance – you name it, we've got it covered. We also compare DIY livery, part or assisted livery, and full livery options – and their associated cost.
Things to consider when buying a horse
We've previously covered things to considering when inspecting a horse to buy, and briefly touched on stabling options. However, until now we've omitted important factors such as horse insurance, and feed and supplement costs.
Stabling and livery
Essentially, there are three tiers of livery available in the UK: DIY ("do it yourself", part-livery (also known as assisted livery), and full-livery. DIY livery is the cheapest option, and the package usually only includes a stable and a paddock – no additional services. Depending on who runs your yard, you might be able to have services (such as having your horse brought in from the field) on a pay as you go basis. Many DIY yard owners like a hands-off approach, so be sure to check with them before moving to their yard if assistance crucial. Depending on the facilties available, DIY yards can vary from £100 to £200 a month.
Part livery includes having assistance with your horse part of the time. Part livery arrangements are often made prior to you moving to a yard. Yard owners are generally more than happy to design a package for you – opposed to an off the shelf option. However, week-to-week consistency is key to a good relationship.
Although many DIY yards also offer part livery, if you're not dependent on someone seeing to your horse regularly you might find another owner at your yard who is looking for some extra money, and will handle the part-livery tasks on a casual basis. Similarly, as almost no-one is able to be with their horse twice a day, every day of the year, many owners are happy to help in return for support with their own horse at a later date.
Full-livery covers all aspects of horse care. This includes mucking out, feeding, watering, turning out, and bringing horses in from their paddock. Most yards offering full-livery also include horse-exercising in their fee.
Full-livery options are most common amongst individuals who are away at university or sit in a demanding job but still want to event their horse during the summer months when they have more time. Although lots of yards offer full-livery options, those run by professional eventers (such as Alexander Bragg) are the most desirable.
A break down of livery pricing is found towards the bottom of the page.

Bedding and hay
Bedding is vital if your horse uses a stable as it helps to absorb waste, and increases their comfort when resting. There are several types of bedding, but the main two options to consider are straw and wood shavings. Unless your horse is on full livery it will be your responsibility to source bedding for your horse.
Although straw bedding is cheaper than wood shavings, it is much harder to muck out and has a higher dust portion. Because of this many opt to use shavings. In England, straw can be found for around £3 a bale, whereas shavings are usually closer to £8. In both cases, you'll get through approximately a bale a week.
Unlike bedding, hay is often available through the proprietor of the livery yard. Again, if your horse is on full-livery hay will likely be included in your monthly bill.
Depending on the previous year's growing season, small bales of hay are usually sold for around £4 each. An average horse will get through approximately two small hay bales a week, depending on their access to grazing.
Feed and supplement
Most horses require chaff and a balancer, in addition to hay and/or grazing. However, depending on the type of work they're performing, this list can quickly grow.
A good balancer can be found for £30 a bag, and chaff for £12. On average, a horse will require one bag of each per month.
Supplements are a broad category, and are usually only administered as required. Because of this it's hard to speculate what your horse might need, and how much this may cost you. Furthermore, much like human supplements, the price of each supplement varies wildly between brands.
Joint supplement is commonly given to eventing horses. A middle of the range tub costs in the region of £40, and will last for two months. Calming supplements are also common.
If you haven't yet bought a horse and are interested to know how much you're going to have to spend on supplements, consider asking the current owner what the horse is fed. You can also ask your vet what they'd recommend when they perform a vetting on the horse.
Veterinary Insurance
Insurance is often overlooked, however, it is a necessity. As a minimum, you should take out third-party cover to protect you if your horse causes an incident – such as a road traffic collision. Although third-party insurance is cheaper than comprehensive cover, owing to the cost of veterinary bills it is advised that comprehensive cover is taken out where possible. Most equestrian events require your horse has comprehensive cover to compete in their competitions, also.
The cost of insuring your horse varies on a case-by-case basis. Third-party cover is around £10, whereas comprehensive cover is usually closer to £55 a month. Comprehensive cover at this price point should cover vet bills up to £5,000, £2,000 of physiotherapy costs (water treadmills etc.), and have a "loss of use" clause in case your horse is irreparably injured. Expect to pay an excess of at least £150 on claims.
Whilst comprehensive insurance seems expensive, one of our contributors has, unfortunately, had to claim back over £12,000 in less than five years from her insurer. Without insurance on her horses, the veterinary bills would have been impossible to cover.
Horse lorry and trailer insurance
As with car insurance, the cost of insuring a horse lorry or horsebox varies depending on the vehicle's age, type, storage location, yearly mileage, etc. However, we've received quotes of £350 to insure a mother and daughter on a 3.5-tonne lorry with third-party fire and theft.
Insuring a horse trailer is much more affordable than a box, and can usually be bolted on to your horse insurance policy. Expect to pay around £5 a month.
Horse lorry breakdown cover
Breakdown cover for your transport should not be overlooked. You should seek out a policy that transports your horse in case your vehicle cannot be fixed at the road side. This is critical, as using a high-street packages from the likes of the AA and RAC would mean your horse would have to be collected by a friend, etc.
For £120 a year you should be able to find breakdown cover that includes recovery of your vehicle and horse.
Farrier costs – shoeing a horse
An average horse in average work will need a new set of shoes every six weeks. Expect to pay £70 for four new shoes, fitted. Extras, such as stud holes, add a small increase in price. However, this is nominal.
It is worth considering that hardy horses not in work do not require a full set of shoes, and in some instances can go without shoes completely.
Break down of horse livery pricing – examples
As you can tell from our overview of the main costs associated with keeping a horse, you can tailor the cost of keeping a horse to what your finances allow (within certain limits). The following breakdowns are designed to represent running costs, and the current market of DIY, part-livery, and full-livery offerings.
DIY Livery: how much does it cost to keep a horse?
Example: DIY livery, relying on friends to help out on occasions when you cannot get to the yard. Third-party lorry insurance, comprehensive horse cover, basic feed, bedding, and haylage.
| | |
| --- | --- |
| Item | Price (per month) |
| DIY horse livery | £125 |
| Hay / silage | £32 |
| Straw bedding | £12 |
| Breakdown cover | £10 |
| Lorry insurance | £30 |
| Horse insurance | £55 |
| Feed and supplements | £42 |
| = TOTAL W LORRY/TRAILER | £264 |
| = TOTAL W/O LORRY/TRAILER | £224 |
Part Livery: how much does it cost to keep a horse?
Example: part livery, based on your horse being brought in from their paddock and fed once per day. Extra facilities – such as use of a horse walker – are not included.
| | |
| --- | --- |
| Item | Price (per month) |
| Part horse livery | £350 |
| Hay / silage | £32 |
| Straw bedding | £12 |
| Breakdown cover | £10 |
| Lorry insurance | £30 |
| Horse insurance | £55 |
| Feed and supplements | £42 |
| = TOTAL W LORRY/TRAILER | £489 |
| = TOTAL W/O LORRY/TRAILER | £449 |
Full Livery: how much does it cost to keep a horse?
Example: bedding, hay, feed, and exercising included in the monthly full livery fee.
| | |
| --- | --- |
| Item | Price (per month) |
| Full horse livery | £1,120 |
| Breakdown cover | £10 |
| Lorry insurance | £30 |
| Horse insurance | £55 |
| = TOTAL W LORRY/TRAILER | £1,205 |
| = TOTAL W/O LORRY/TRAILER | £1,175 |
Saving money looking after a horse
The exact amount it will cost to keep a horse is impossible to calculate, however, if you're looking to save money there are a few ways you can cut back on expenditure.
A great way to cut down on the amount of feed and hay that you have to buy is to choose a yard that has all year turnout. This approach also helps to reduce bedding usage. By installing rubber matting below your horse's bed you're also able to cut back on the amount of bedding material that you use. Although there is an initial cost associated with purchasing mats, they will pay for themselves in the long run.
If you have any tips and tricks you'd like to contribute, join the discussion in the comments below!